There will be the release of an update to the code for the Agoria software between Monday 20th and Tuesday 21st of Feb 2017. We apologise for any inconvenience that may be caused during this maintenance release.
These exciting changes will make all the existing classic Agoria web site formats more responsive for mobile users and introduce a new "Mobile Friendly"setting on the Site Appearance Page. The effect of the "Mobile Friendly" option is to remove the side panel area on both the desktop and small device (tablets & phones) displays. It also moves the tab menu to the top of the screen and condenses the main menu to a "hamburger" style button on small devices.
The setting for enabling a site to be fully "Mobile friendly" is shown below in the Site Appearance management option. Such a change will only come into effect if you switch the display format to "Mobile Friendly" for your web site.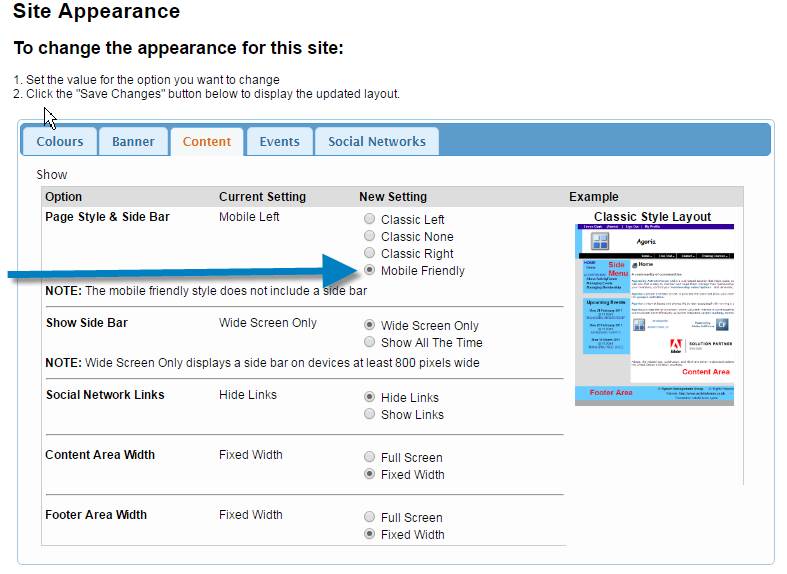 On a smart phone:
Notice the standard "hamburger" style 3 bar menu link that appears at the top of the screen. This link contains your menu when the site is displayed on a small format device.
To return to a classic display on the desktop, simply change the selection on the Site Appearance Page.
If you are happy with your existing classic web site format, you will not need to do anything.

The pages in your web site will try their best to display in a more mobile friendly manner on small format devices. However, they may not always be as successful as you would like, depending on how you created the page content. In some cases you may need to look at reviewing and updating the content on the affected pages if they do not look as expected on a small format device.

Please make sure you check EVERY PAGE on your web site after Wednesday 22nd Feb on a small format device to ensure the pages are displaying as expected.

On both a classic and "Mobile friendly" web site, when a page is viewed on a small format device, the most obvious effect will be that any side menu area is hidden away and the tab menu is moved to the top of the screen. This automatic and dynamic change of layout creates extra space to allow the screen content to fit better on a Tablet, IPad or Mobile Phone. Also most pictures should adjust their display size according to the device, but this will not always be guaranteed to work.
In terms of the classic Agoria web site displays, all of these should at least behave in a rather more more mobile friendly and responsive manner after the software release has been completed.

NEW FEATURES FOR THE AIVC WEB SITE
The updated software also include a number new features that will be used in updates to the AIVC web site. The most notable is that the AIVC home page will include a diary of upcoming inter-club events that can be easily viewed on a mobile device. An example showing how such a content page could display is shown below:





The software will also be able to include the diaries from any number of Meetup groups each on their own content page. It will also allow member club web sites to each be embedded onto their own content page. The software can also integrate with Facebook Events to show a groups Facebook diary.


ANY PROBLEMS OR ISSUES ...
Should you encounter a problem, please send a note of the URL (web address) and a screen shot along with the a description of what you were doing. An indication of your login permission level, the browser version and the device used will help greatly in tracking down the cause of any issues reported.

There may be a charge if you request the AIVC Webmaster to make changes to any of your pages where the issue is caused by how you created the page in the first place.

Please send the details of any issues found as described above to: webmaster@ivc.org.uk
You can see a TEST set up of the update at the following web sites:

test.agoria.co.uk
tobyperth.agoria.co.uk