AIVC Events Bulletin

Print Version (PDF) Print Version (Web)



Events Bulletin from 20 October 2018

EVENT HIGHLIGHTS

This is a list of headline and extended period events that are worth an early mention.
MAIN DIARY

22 events found for: All members



IMPERIAL WAR MUSEUM - WEEPING WINDOW

Sat 10 Nov 2018

at: 11:00 to 15:00

Last chance to see the touring poppies art installation before they retire to the IWM.

Poppies: Weeping Window is a cascade comprising several thousand handmade ceramic poppies. The picture above is from the Tower of London courtesy of IWM website.

IWM London tells the stories of those whose lives have been shaped by war throught the depth, and breadth and impact of their galleries, displays and events.

In addition to the Poppies sculpture, IWM presents 'Making a new World', a season of innovative exhibitions, installations and immersive experiences at IWM London which explore how the First World War has shaped the society we live in today.

Itinerary for the Day:
12:00 IWM - Poppies and other free exhibitions
Meet at entrance to IWM London

14:00 Wander down to Mercato Metropolitano as Borough for late lunch
Approx 10-15 min walk

Please RSVP if you plan on joining us so we can arrange to meet up.

Tube Lines:
Northern or Bakerloo Line to Elephant & Castle

Looking forward to another explorer day out.

Thanks

Alison Armstrong
Milton Keynes IVC

COST: Free unless you visit a display with a fee BOOK BY: Thu 08/Nov/2018 SHARED BY:

Association of IVCs (AIVC) (& All AIVC Groups)
---
AIVC VIRTUAL COMMITTEE MEETING.
Mon 12 Nov 2018
at: 19:00 to 21:00
This month's AIVC Committee Meeting will be held within a Virtual Environment by exploiting technology, which reduces costs and more importantly enables the AIVC Committee to hold more regular meetings.
Due to login requirements, only pre-booked representatives or committee officers from member clubs are allowed to observe the meeting with the agreement of the Club and AIVC Secretary.
---
WALKING HOLIDAY IN MADEIRA
Thu 22 Nov 2018 to Sun 2 Dec
Walking/Sightseeing Holiday in Madeira Thursday 22nd November to Sunday 2nd December 2018 (provisional dates). You can come for all or part of the time.
We will be based in Madeira's Capital Funchal close to the old town where there are a large number of tourist attractions. The weather in Madeira is good all year round so bring your swimwear as well as your walking boots.
Most walking will be on the Levadas (irrigation channels) which provide easy level walking. Walking is optional - if particpants prefer to do other things this is completely up to them. This will be a very relaxed holiday.
---
XMAS PARTY - MY WHITE BEDROOM BAND, BUFFET & DISCO

Fri 23 Nov 2018
at: 19:00 to 23:00
An Xmas party with My Whote Bedroom, buffet and disco. Subsidised for IVC members.
COST: IVC members £10, guests £12.
SHARED BY:

London IVC (& All AIVC Groups)
---
XMAS PARTY - MY WHITE BEDROOM BAND, BUFFET & DISCO
Fri 23 Nov 2018
at: 19:00 to 23:00
Have a great evening at our popular Xmas party - book early as it always sells out.
From 7pm we will enjoy socialising to a musical background.
At 8pm we will enjoy a great buffet. Get there early to make sure you get your share - you know how greedy IVC members are.
At 8.30pm My White Bedroom, fronted by IVC member Patric Oconnor, will perform a set. The band had a hit with their first LP in the 90s and have recently reformed and released a new LP.
After they have finished its over to Dave's Divine Disco.
The cost is £10 for IVC members and £12 for guests. Book with Dave and pay on the door when you arrive. If you book but fail to turn up you will still have to pay!
Please remember throughout the day pre, during and post-AGM and during the party to let bar staff know that you are with the function upstairs - this helps keep the rental charge down.
Join us for a fabulous start to the IVC Xmas season.
You need to be a member of one of the IVC clubs around the country to attend this event. Fined your local club here
Find out more about Lonon IVC here
COST: IVC members £10, guests £12.
SHARED BY:

Association of IVCs (AIVC) (& All AIVC Groups)
---
BIRMINGHAM IVC YORK WEEKEND
Fri 30 Nov 2018 to Mon 3 Dec
York
the "York" weekend
A Birmingham IVC event
Friday 30th Nov to Monday 3rd Dec 2018
Join IVC for a Weekend in York, Friday 30th November to Monday 3rd December 2018.

Rich in ancient history, York is the perfect holiday destination. Delve into the city's vibrant café culture, take time out to enjoy some of the country's most talented street entertainers or simply watch the world go by while sipping a drink by the river. Visitors to York can enjoy hundreds of attractions, museums, historic buildings, tours, shops, restaurants and bars within the compact walled city.

We are staying at the "Stableside Centre" http://www.stablesideyork.co.uk/,which offers 4 star hostel accommodation. It's where the jockeys sleep! Each room has a washbasin and private toilet. Shared shower facilities are available. Each room has a television and free Wi-Fi. The centre has plenty of free parking. The city centre is a short distance down the Tadcaster Road with a bus every 10 minutes.
Note: Posh places to stop very nearby. Marriott York and Holiday Inn York.

York IVC is assisting with the hosting.

Friday
Arrive at the centre. The evening meal is at the "Cross Keys of York" pub, which is just a short walk up the road. They have a good range of real ales and serve food until 9:30pm. Let Jackie know if you wish to eat. She will have to book.

Saturday
Loads of things to do! https://www.visityork.org
As a special treat, Roger of York IVC, is conducting a Railway walk with the theme of 'the early development of trains in York.'
It's a lovely bike ride from the accommodation to the city centre via crossing the racecourse and along the River Ouse. (You can walk it, if you must!).
Evening - Party at Stableside, Evening meal option is available at the centre £10pp - bring your own music and drinks, just like the old days.

Sunday
It's impossible to see York in a day! There is plenty more to see. What about going to the Treasurer's House? It is a NT place and really good.

The Cost includes 3 nights Bed and Breakfast,
£120 per person in a twin.
£165 per person in a single room.
Additional nights can be added to make it a holiday.

Organiser
Jackie Hayward . hltlanguages@gmail.com Birmingham IVC/MKIVC

Note. Booking must be done via Jackie to obtain the group rate. £50 pp deposit will be required to reserve the room.

This is an IVC National Event. You must be a fully (paid up) member of an IVC group to attend.
ORGANISER: jackie hayward hltlanguages@gmail.com
---
BASINGSTOKE CARVERY DISCO XMAS PARTY NIGHT
Sat 1 Dec 2018
at: 19:00 to 23:00
THIS EVENT IS NOW FULLY BOOKED ...
SORRY BUT WE WERE ONLY ABLE TO RESERVE ONE TABLE AT THE APOLLO THIS YEAR.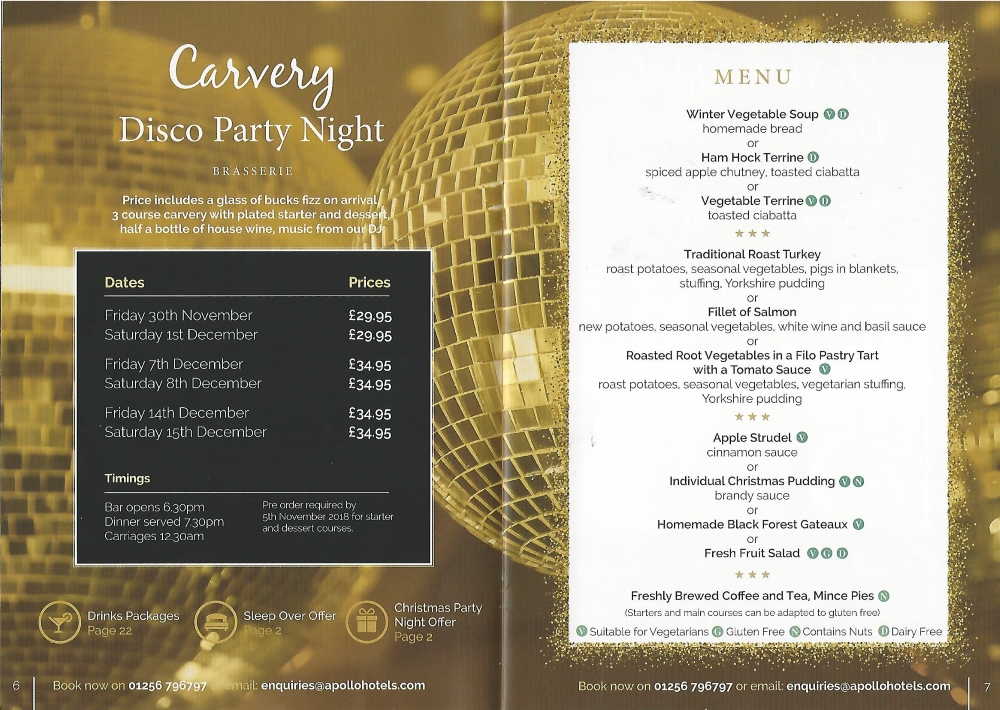 We have decided to hold this years Basingstoke Friends Christmas Party in the Apollo Hotel at Aldermaston Roundabout on the Northern Ring Road in Basingstoke.

Please arrive at the hotel bar from 6.30pm to be greeted by the hotel party host. The plated starter will be served at 7.30pm followed by a carvery style main and plated dessert. After the meal, you can dance the night away to the sounds from the hotels resident DJ until carraiges at 12.30am.
As usual, members are requested to follow a smart dress code for the evening.
Contact Basingstoke Friends if interested.
COST: £29.95 for AIVC Guests / £20 for Club Members
BOOK BY: Wed 31/Oct/2018
---
BIRMINGHAM IVC - NEW YEAR WEEKEND IN NANTWICH
Fri 4 Jan 2019
at: 18:00 to 18:00
An invitation to join Birmingham IVC for it's 2019 New Year Weekend Celebration at a grand country house hotel , in the glorious Cheshire countryside.

A Grade II listed Victorian property, this hotell is a half-timbered country house that's the perfect place to relax, or use as a base for exploring the local area. Located just five minutes from the Cheshire riverside town of Nantwich, this wonderful hotel delivers a memorable experience with its well-kept gardens and impressive historical features.the hotel was recently awarded four stars by the AA and a gold medal by Britain in Bloom. A variety of well-equipped bedrooms are available, some with spacious patios and balconies. Facilities include a 9-hole golf course, spa and beauty treatments, and a great range of entertainment, including an impressive cabaret restaurant.
You can enjoy stunning scenery, live entertainment & fine dining at this fantastic adult only hotel

Near our hotel is Nantwich a medieval market town with a modern edge.
Situated on the banks of the River Weaver, Nantwich is famous for the medieval timbered buildings dotted around the town. Stroll through the atmospheric streets and visitbijoux boutiques, antiques dealers and contemporary craft shops.
Loads of things to do in the area, Jodrell Bank Discovery Centre, Anderton Boat Lift, Chester, Reclaimed World and Arley Hall and Gardens to name but a few.


TO BOOK:-
Booking only via the organiser!
The cost is £153 per person, a deposit of £33 secures your place. At the moment there is no single supplement, however the availability is very limited. Payable by Bank transfer or Direct payment to our HSBC account.
When you have decided to:come on this brilliant weekend, please contact the organiser to make a booking.


You need to be a member of one of the many IVC clubs around the country to join this event.
Find your nearest IVC at
COST: 153
SHARED BY:

Association of IVCs (AIVC) (& All AIVC Groups)
---
SWANAGE BLUES FESTIVAL

Fri 1 Mar 2019 to Mon 4 Mar
A weekend at a great blues festival in Swanage.
COST: £14.50
SHARED BY:

London IVC (& All AIVC Groups)
---
CHERRY BLOSSOM IN JAPAN

Wed 20 Mar 2019 to Wed 3 Apr
SAVE THE DATES for this hoilday of a lifetime to Japan to experience the Hanami(Cherry blossom), cuisine, culture, wild life and scenery.
SHARED BY:

London IVC (& All AIVC Groups)
---
A WEEK AT THE EDINBURGH FESTIVAL

Sat 10 Aug 2019 to Sat 17 Aug
Join us at the world's greatest entertainment festival. After a terrific week at the Edinburgh Fringe Festival in 2014, 2015, 2016, 2017 and 2018 we will return in 2019. We will stay in value for money, student accommodation close to the heart of the festival. We will help you navigate your way round the festival which is vast and can be overwhelming. We will organise shared visits to events and several team social get togethers - or you can just do your own thing. Help will be provided with travel arrangements and prebooking of recommended avents - but most events can be booked when you are there.

Contact Dave now for more details and to join the acommodation waiting list. This will cost a little over £200 for the week for your own room in a shared student flat which is basic but comfortable.
Join London IVC to join us!



COST: £200
BOOK BY: ASAP
SHARED BY:

London IVC (& All AIVC Groups)
---
Icons:

= Invitation to others

= Shared by others

= Headline


The content of this bulletin is copyright to Association of IVCs (AIVC) and may not be reproduced without the express permission of the copyright owner.