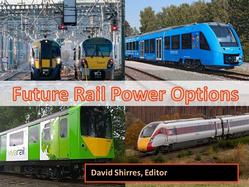 David Shirres presents his view for the future of onboard power for railway application. The presentation will consider:
UK decarbonisation context.
Weaning rail off petroleum.
Electrification - benefits, challenges and politics.
Deployment of hydrogen trains and supporting infrastructure.
Battery trains developments.
Can research change the required traction mix.
The transition to nett zero.
David retired from Network Rail in 2009 after a 38-year railway career that included rolling stock engineering, asset management and infrastructure projects.
In 2010, he became a writer for Rail Engineer magazine and has been the magazine's editor since 2016. He has written over 200 features for the magazine including a number on rail decarbonisation. He also writes a regular railway engineering column for Professional Engineering magazine. David is also actively involved in the IMechE Railway Division in Scotland having been Chair and Secretary of the Division's Scottish Centre.
IMechE Railway Division South Western Centre Committee
email: rdswsec@imechenearyou.org
View our 2020-2021 Programme PDF – https://nearyou.imeche.org/docs/default-source/South-West-RD-Centre/imeche-south-western-centre-20-21.pdf?sfvrsn=0
Follow us:
https://www.linkedin.com/company/imeche-railway-division-south-western-centre/